Admissions For BA and B Com [N.E.P] 2022 - 2023
CLICK THE IMAGE BELOW OR LINK TO VISIT UUCMS PORTAL
https://uucms.karnataka.gov.in/

College Help Desk Numbers:-
Principal : 9620394986
Nodal Officer : 8904463692
Office : 9844156227 / 9945320609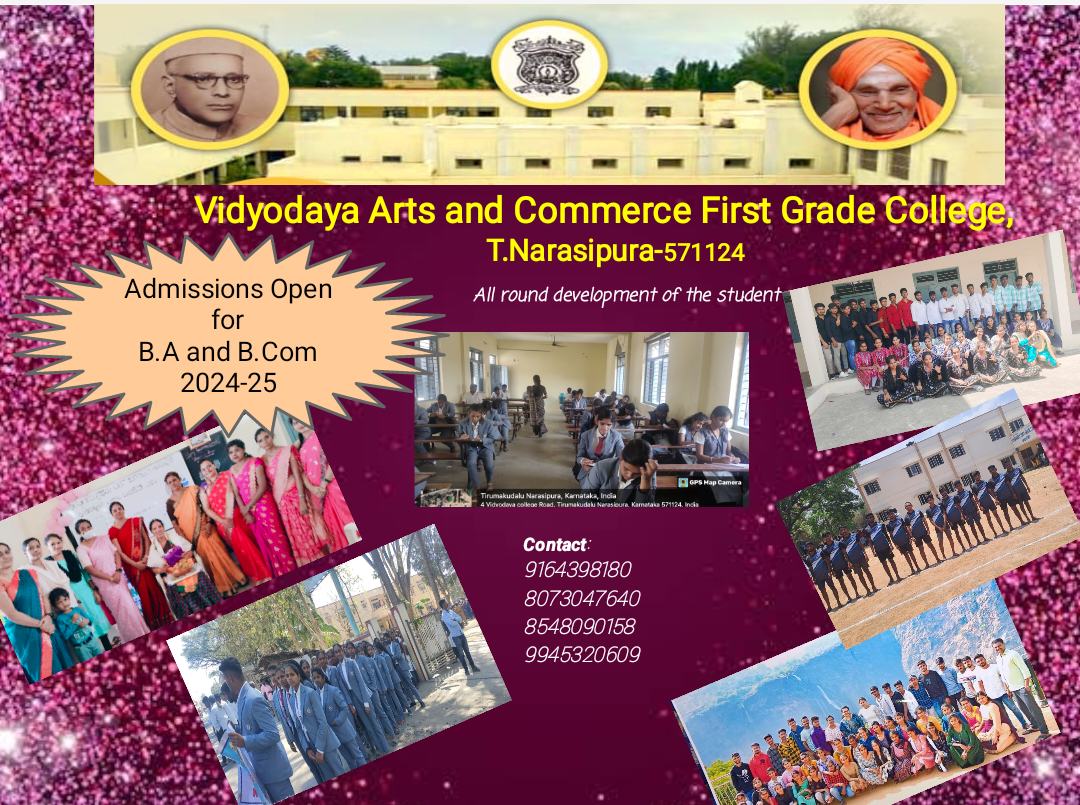 VIDYODAYA ARTS & COMMERCE FIRST GRADE COLLEGE



Vidyodaya Arts and Commerce First Grade College is a popular, well run, Aided Degree College established in the year 1980 by the Grama Vidyodaya Sangha at T.Narasipura, a place of historical imporatance known as "Dakshina Kashi" where we have the confluence of three rivers, Cauery, Kapila and Spatika. The founder of Grama Vidyodaya Sangha Late Sri.M.C. Shivananda Sharma had the spirit and vision to promote the cause of higher education among the rural students of this area. He was the prominent person behind starting of this Vidyodaya Sangha and educational Institutions. His efforts were continued by the succeeding management committee.Now the present Management is headed by his Holiness Sri Sri Siddhalingha Swamiji, Siddhaganga Mutt Tumkur. of Sri Siddaganga Mutt, Tumkur, as its President and Sri.K.P.Mahadevaswamy as its dynamic General Secretary.



Vision



"To Impart Quality Education for Personality Development"



Mission



1. To activate the potential of students through curricular, co-curricular and extra curricular activities.

2. To impart quality education for co-existence.

3. To supplement the teaching-learning process with life skills

4. To enrich the learning experiences of the students with new educational technology

5. To create positive environment for the development of women to realize their full potential.
Vidyodaya Arts and Commerce First Grade College
T. Narasipura-571124
Revised Academic Calendar for the Year – 2021-22

SI.No

Particulars

Date

1

Admission Process

23-08-2021 to
16-10-2021

2

Commencement of Odd semester classes –  (III&V ss)

18-10-2021

3

Commencement of Odd semester classes – (I ss)

27-10-2021

4

Department Activities

Nov to Dec-2021

5

Internal Assessment – Tests-1

12 to 13-01-2022

6

                                      Tests-2

07 & 08-02-2022

7

Mid Term Vacation

20-03-2022 to
07-05-2022

8

Commencement of Odd semester Examination

23-03-2022

9

Commencement of Even semester classes

09-05-2022

10

Department Activities

May to Aug-2022

11

Internal Assessment – Tests-1

July-2022

12

                                      Tests-2

Aug-2022

13

Terminal vacation

08-09-2022 to
31-10-2022

14

Commencement of Even semester Examination

Sep-2022

15

Next Academic Session for 2022-23 batch

02-11-2022